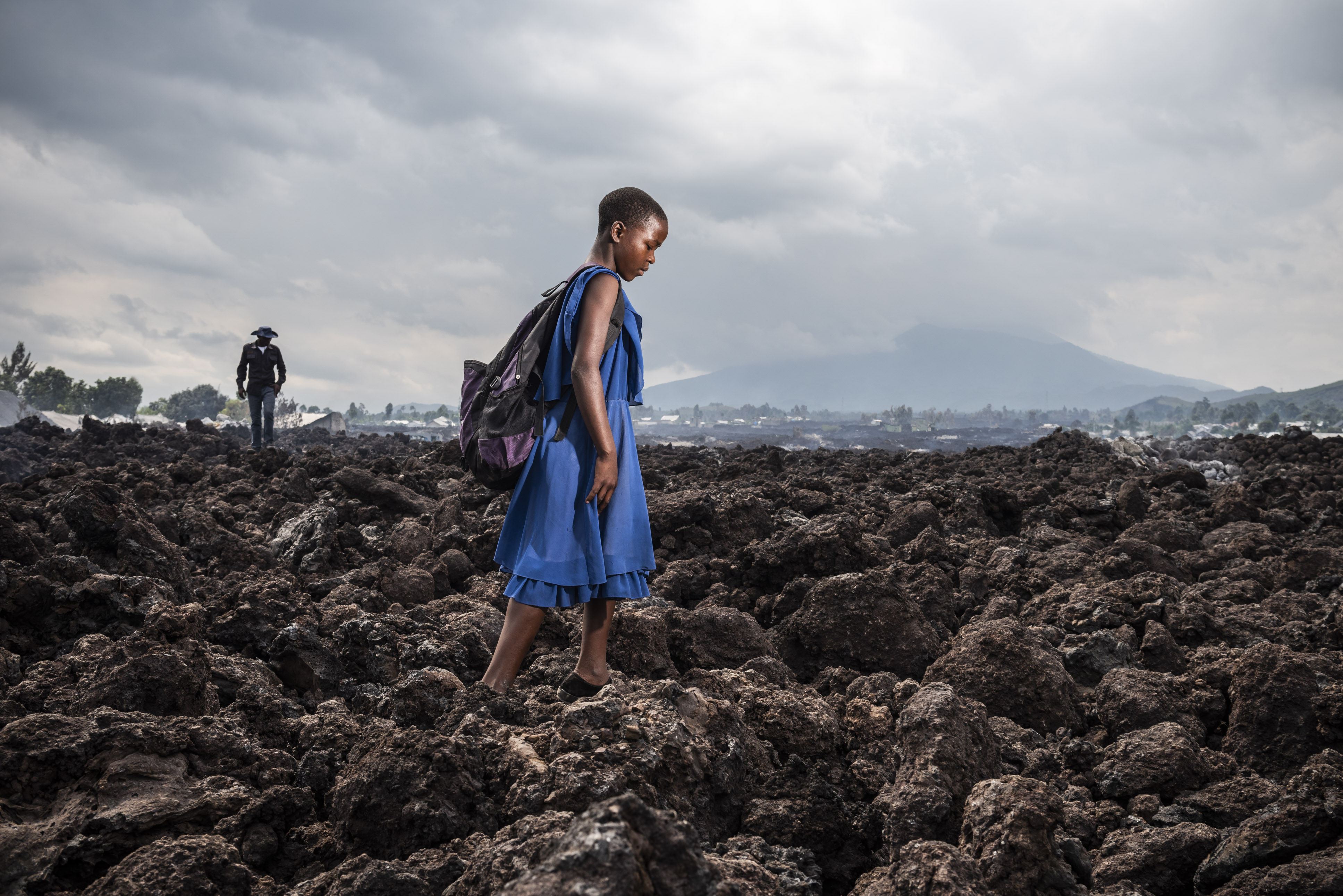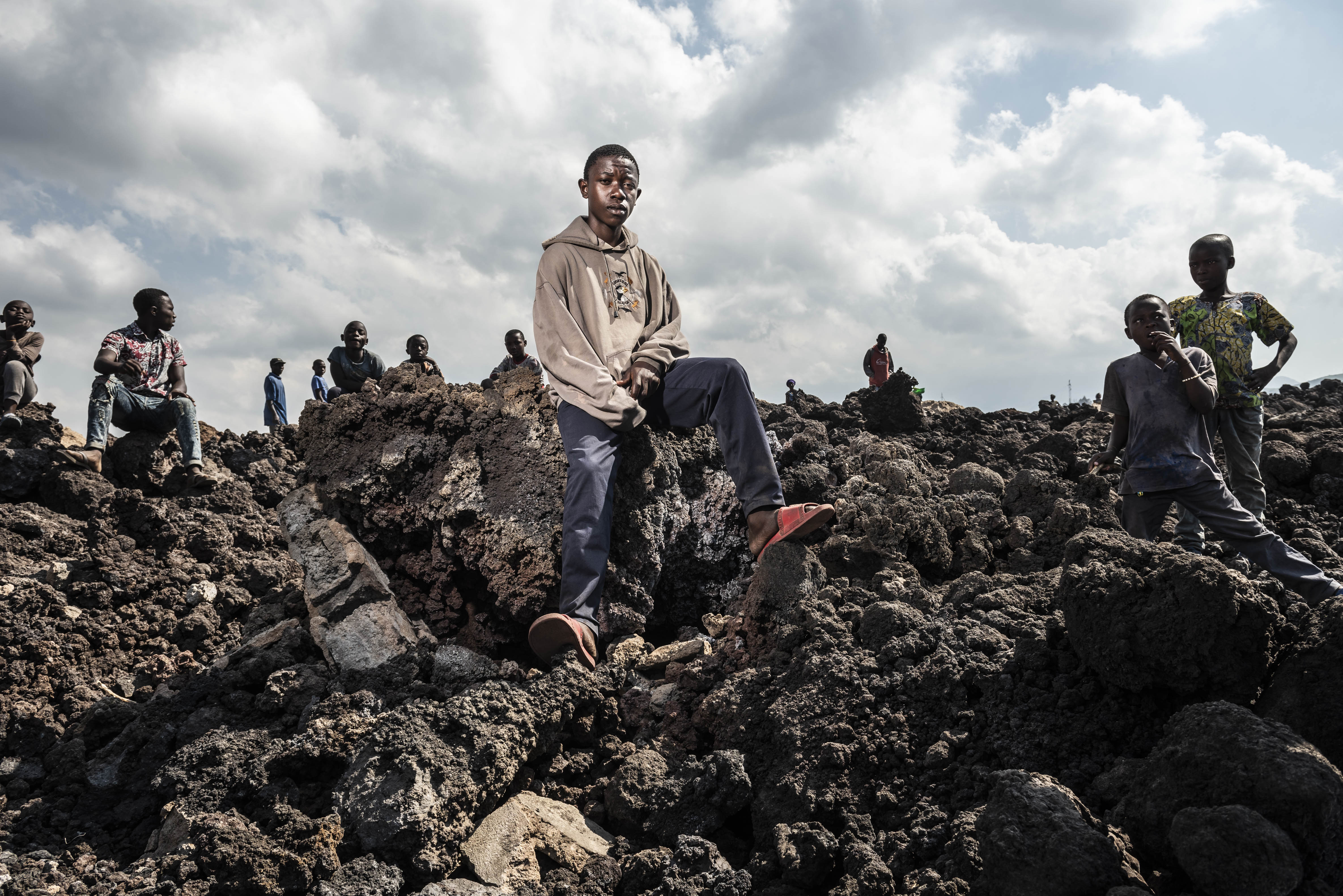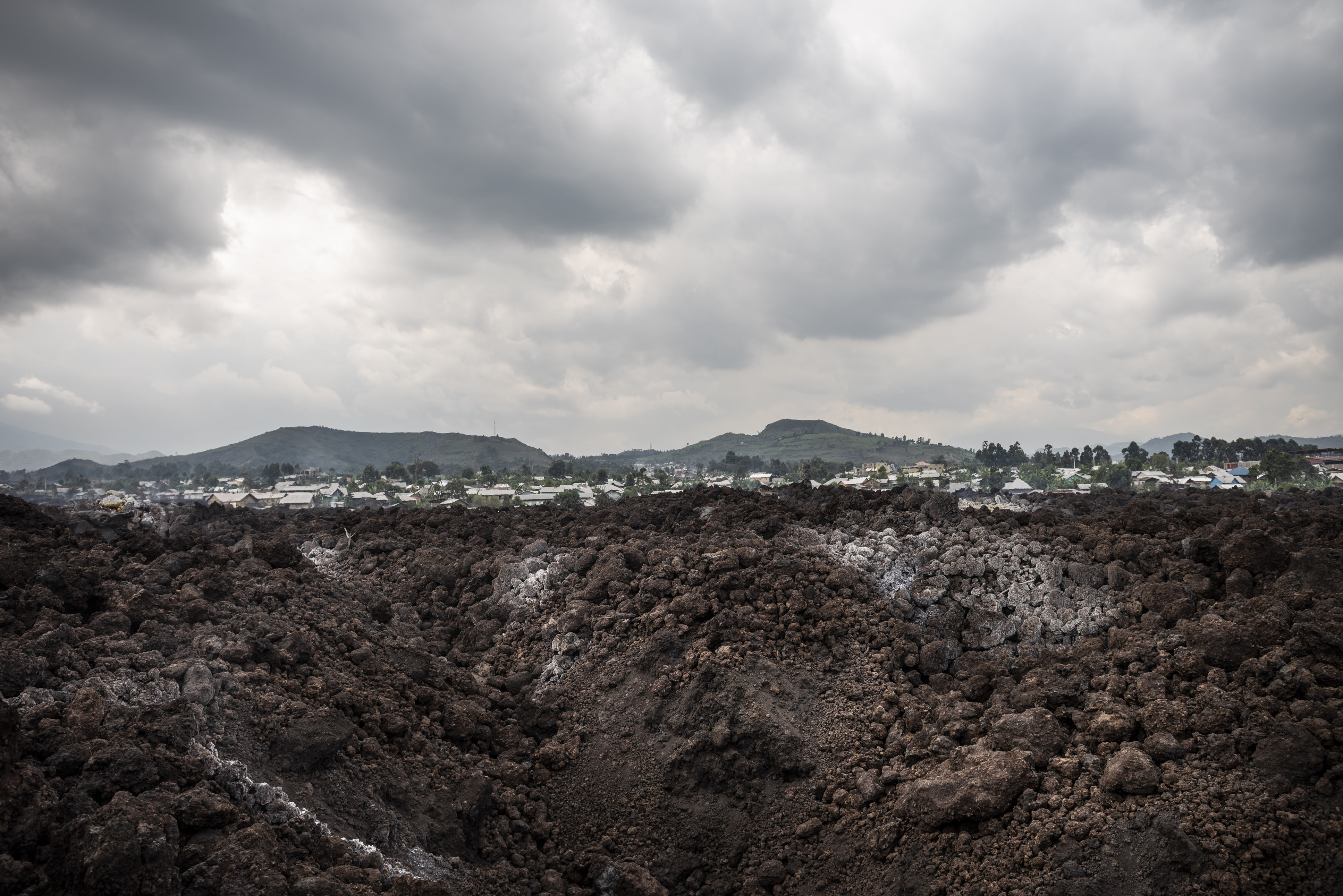 Context
On May 22, 2021, the city of Goma was affected by the eruption of the Nyiragongo volcano located 19 km from the capital of the province of North Kivu in the Democratic Republic of Congo. The lava flow and seismic tremors led to the death of 32 people, the damage of about twenty villages, the destruction of nearly 4,000 homes, 12 schools and 3 health facilities.
While the evacuation of Goma has caused the displacement of 450,000 people, among the 600,000 inhabitants of the city, nearly 233,000 people have reached the localities of Sake, Rutshuru, Lubero, Minova and Bukavu, including nearly 1,400 unaccompanied children.
UNICEF also estimated that more than 280,000 children were likely to be directly affected by the disaster. Faced with the massive influx of displaced persons, the reception structures of these localities (schools, places of worship, community centres) faced needs for water, hygiene and sanitation, food, health and basic necessities. Due to supply problems and increased demand in host localities, food prices doubled in a matter of days. In Goma, more than half of the population had not access to water. UNHCR estimated that 350,000 people were in need of emergency humanitarian assistance in Goma.
Present in Goma since 2017, AMADE has set up the AMANI pavilion dedicated to maternal and child health within the Heal Africa Hospital, the main hospital in the city. AMADE is also at the origin of the training center for social capoeira in partnership with Gingando pela Paz DRC association.
This center trains educators from the main child protection structures in Goma to take care of vulnerable children (children demobilized from armed forces and groups, children in street situations, children victims of sexual violences) using social capoeira. These field partners drawn up a state of needs in terms of food, provision of basic necessities and psychosocial care for children accompanied by these two structures.
Completed activities
Support for the management of cases of severe acute malnutrition of children from affected families in Nyiragongo: 195 children are taking care by Heal Africa teams on an outpatient basis in Heal Africa's partner health centers and at the Heal Africa hospital. The activities are supervised by 2 nutritionists from Heal Africa in collaboration with those from partner health zones. 12 health care providers and 15 community relays are trained.
Food support and distribution of basic necessities:
Gigando Pela Paz has identified 130 children in vulnerable situations among its partner structures. Their needs are covered for 1 month through the distribution of water, food and basic necessities.
Post-traumatic accompaniment of vulnerable children:
Considering the expertise acquired by ACAY with vulnerable young people (young girls victims of violence, minors in conflict with the law) in the Philippines, a transfer of expertise between ACAY and Gigando Pela Paz will strengthen the quality of their interventions with their respective target audience.
Results
195 children suffering from severe acute malnutrition have been taken care by Heal Africa teams (180 on an outpatient basis in partner health centres and 15 in Heal Africa hospital).
130 children in vulnerable situations have benefited from food care and necessities (hygiene kits including periodic protection and clothing).
Emergency / Post-Emergency
Care of children affected by the eruption of the Nyiragongo volcano in Goma, DRC
Congo, The Democratic Republic Of The

GOMA

Project status

Completed

Duration

2021

Funding

35 505 €

Beneficiaries

195 malnourished childre in Nyiragongo halth zone

130 chrildren and tennagers accompanied by the social capoeira center

Partners

Hael Africa

Gigando Pela Paz

Objectives

Respond to the needs of children affected by the eruption of the Nyiragongo volcano supported by Heal Africa and Gigando Pela Paz in Goma.

Respond to the nutritional emergency for 195 children in situations of severe acute malnutrition.

Support the food and psychosocial care of vulnerable children benefiting from the social capoeira training center.
Testimonies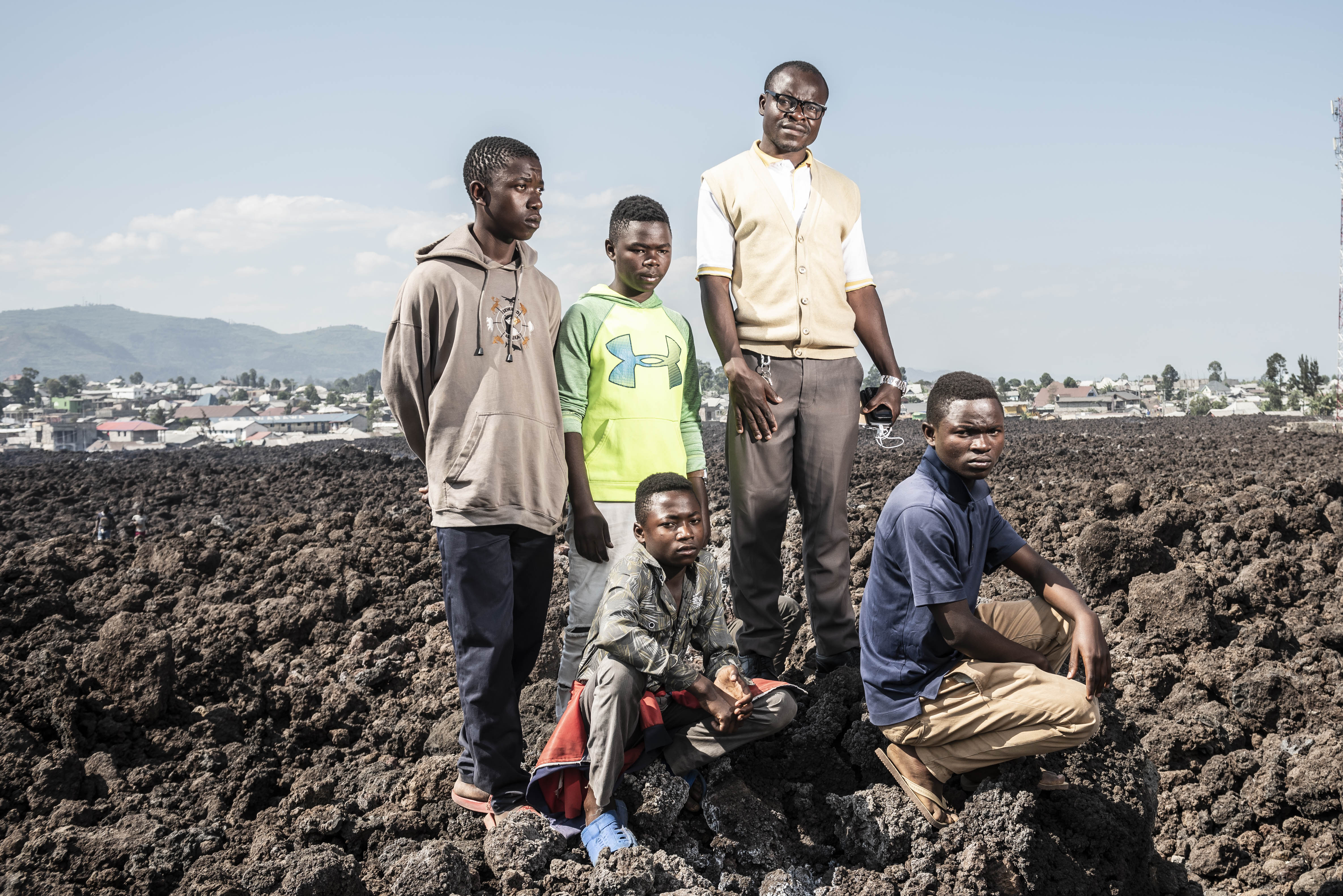 Julien
Read a first-hand account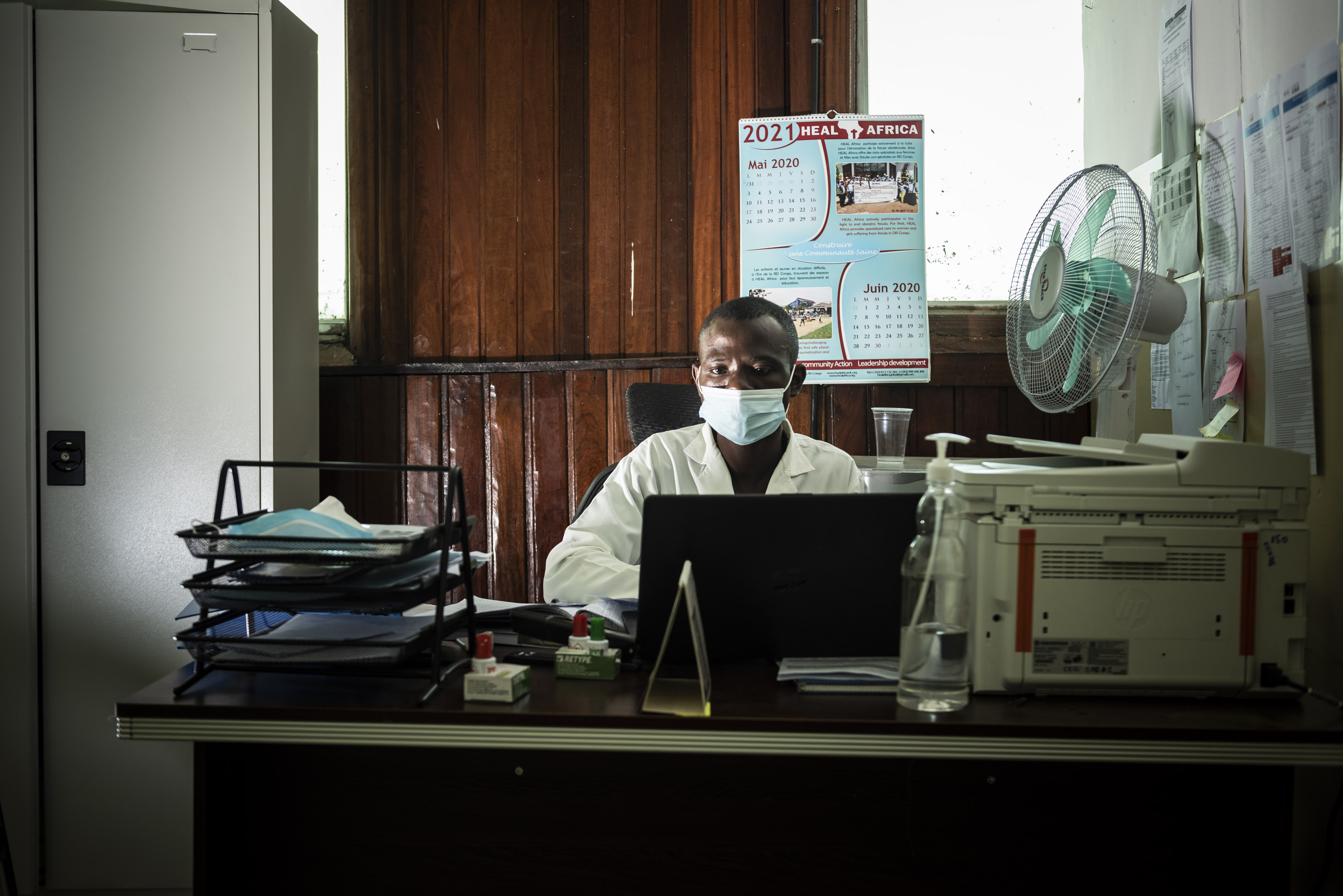 Jackson
Read a first-hand account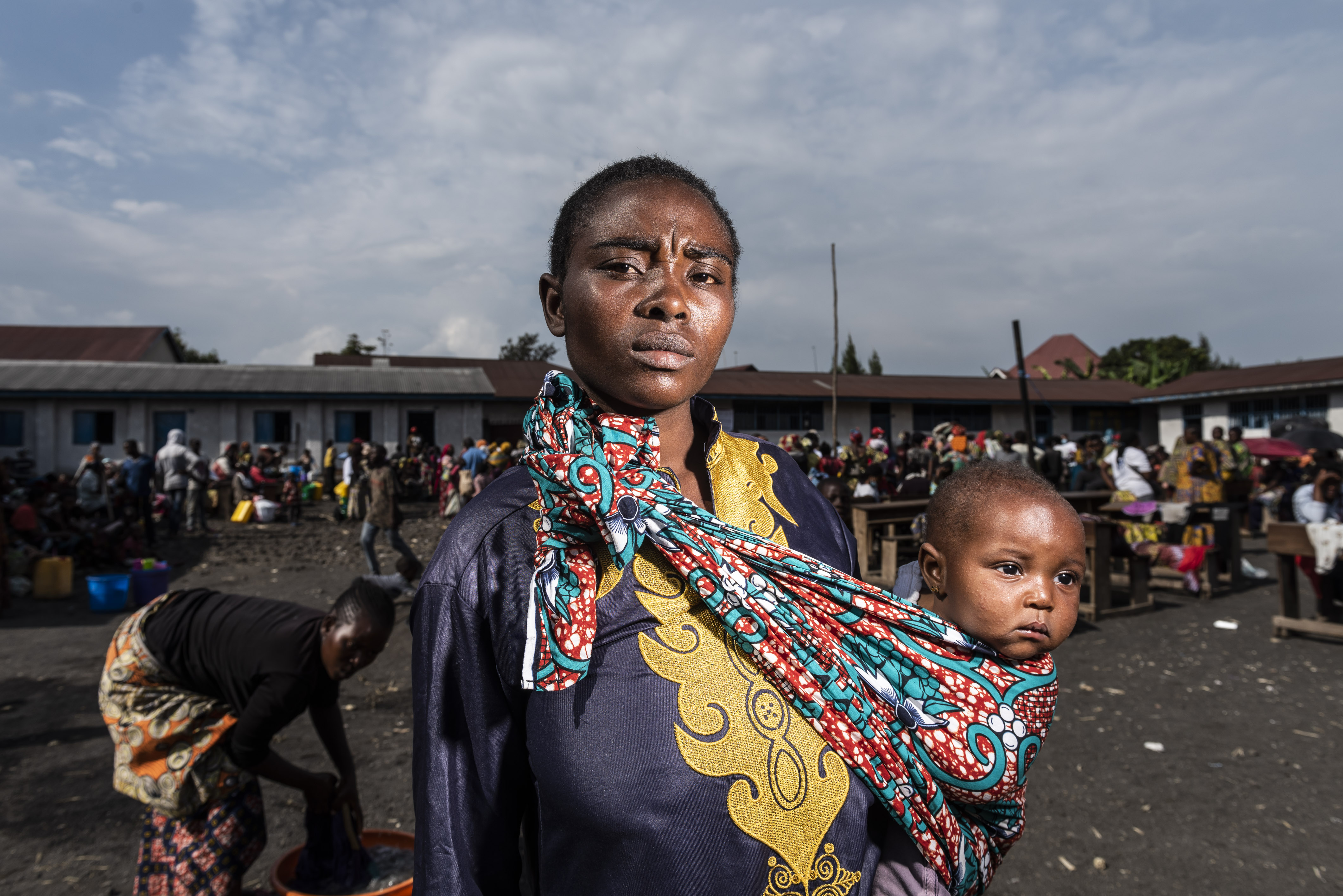 Rosette
Read a first-hand account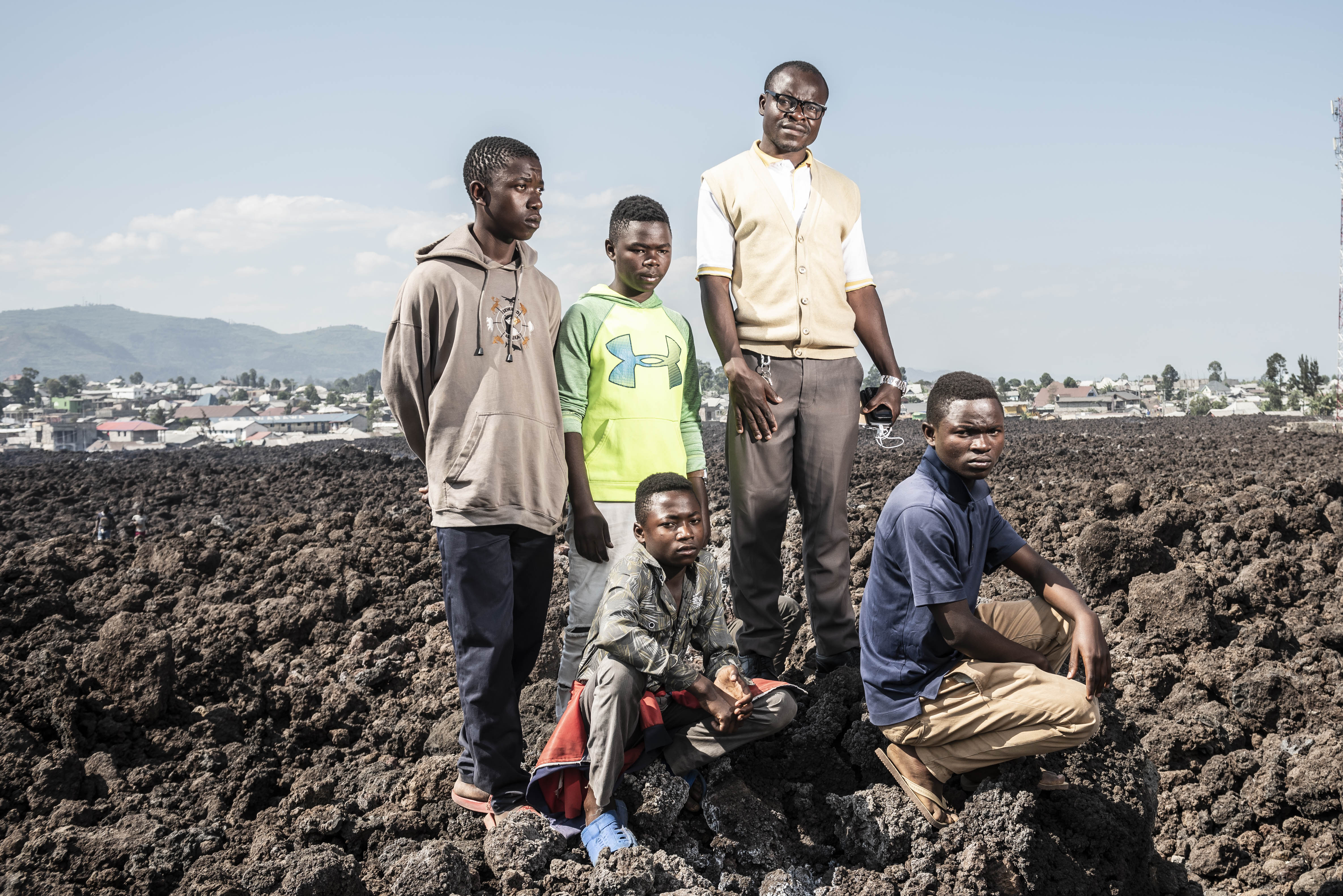 Julien
"School-less" schoolchildren.
The Patmos school is located in the heart of the Buhéné neighbourhood. The day after the volcanic eruption, students and teachers find themselves on top of lava that is still smoking.
"It took us several days to find the exact position of our school. It's a disaster."
The director of the establishment is inconsolable. Three months from the end-of-year exams, the 263 students of his school find themselves without a building.
Justin is 17 years old. A student in his final year of electronics, he is very worried about the future.
"If I don't validate my semester, my year is lost. I can't afford another year. I'll have to find a job and end my education here, without a degree."
For most of these kids, school attendance is achieved at the cost of great family sacrifices.
Close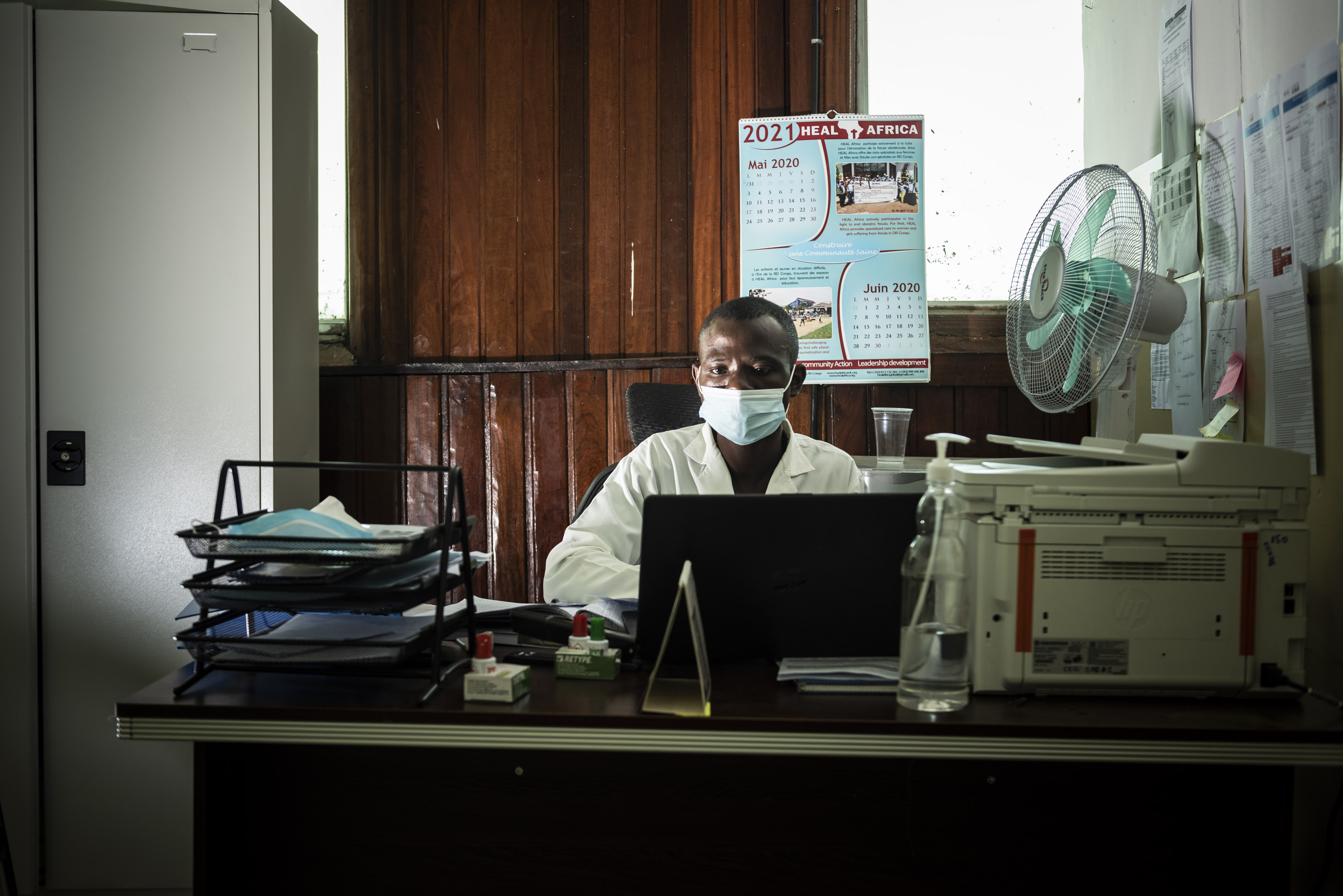 Jackson
The heroes of Heal Africa; "The main thing is intact: we have our health."
Gioma Hospital – 22 May 2021 – 7 pm.
Situated 20 km from Goma in RDC, the Nyiragongo volcano erupted. Panic took hold of the population. As in 2002, the lava headed for the city.
The Heal Africa Hospital is located in a neighbourhood threatened by the volcano. The order was given without delay to evacuate the patients and save as much equipment as possible.
The two hundred and fifty staff at the hospital set to work. Some patients fled, still on perfusions or equipped with electrodes, frightened by memories of the last eruption which caused several hundred deaths. The lava had not yet reached the city when several wounded individuals arrived at the hospital. The urgent cases had to be managed while continuing with the evacuation. Then came the terrible news: the lava was already at the gates of the city and the Buhéné neighbourhood would soon be destroyed.
Stress levels rose a notch for Jackson, a 38-year-old nurse: his plot of land is in this neighbourhood, where he lives with his wife and two children.
All night, he unsuccessfully tried to reach his loved ones to make sure they were safe. In the early hours of the morning, after the evacuation from the hospital is complete, he jumped on a motorbike.
All he can do is observe the devastation: "My house was under three metres of lava, all I have left are the clothes on my back and my life." Fortunately, his wife and children were able to flee in time.
Five employees of Heal Africa suffered the same fate. All of them held the fort: not a single day of rest, not a single complaint. Jackson, sporting a large comforting smile, concludes with these words: "The main thing is intact: we have our health."
© AMADE
Close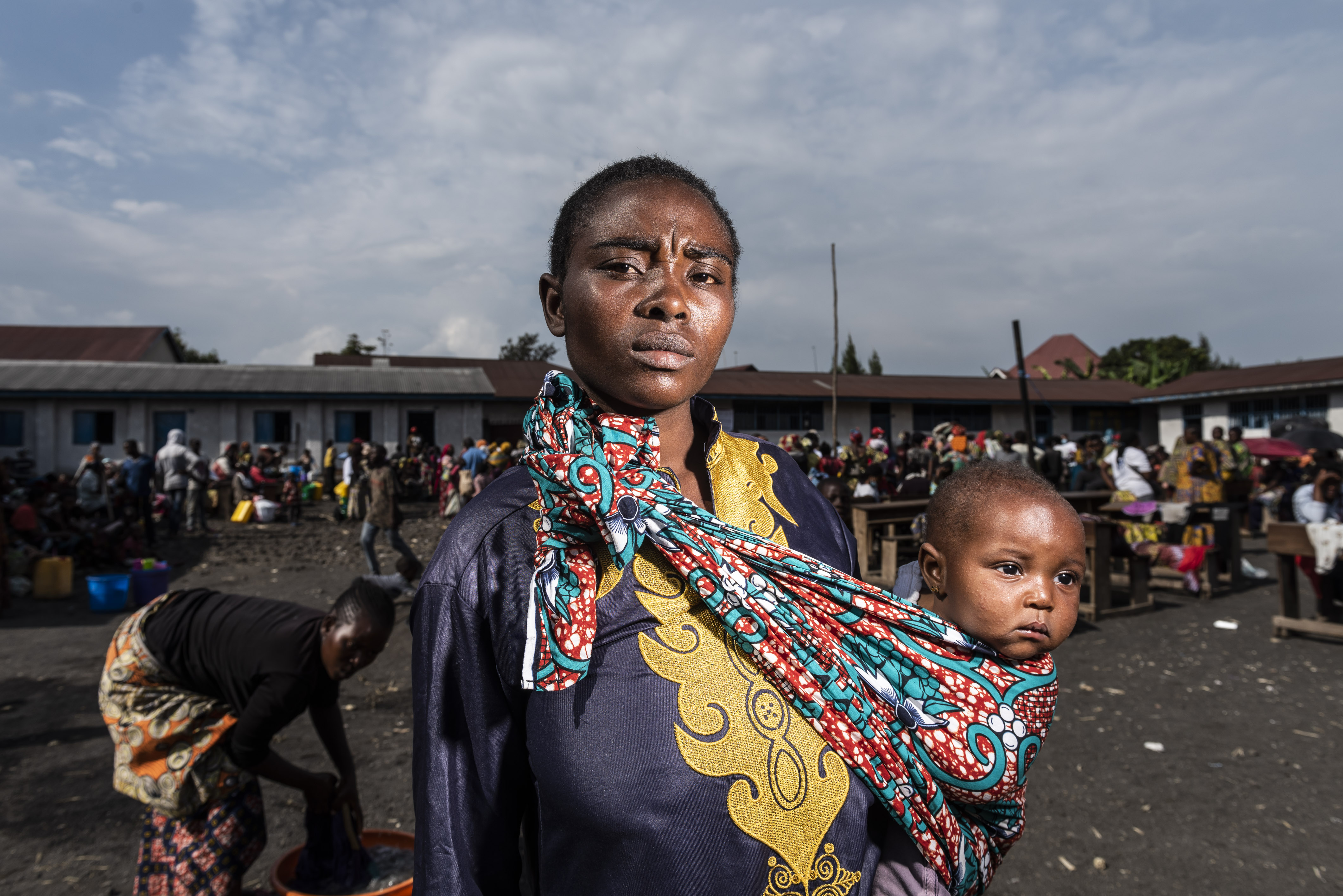 Rosette
Displaced Persons after the Eruption
"This is what they give me; do you think my baby can eat soap?"
After the eruption of the Nyiragongo Volcano, there were over 40 000 displaced persons, 35 victims, and 3 000 homes destroyed.
The vast majority of the population evacuated the city.
It was in the city of Sake, 25 km from Goma, that we met some of the refugees. Sake is a small town of 57 000 inhabitants, which received 140 000 refugees within a few hours.
The sun was still beating down and it was 4 pm when I arrived in the church courtyard.
I counted over one hundred women and children, with expressionless faces – the atmosphere was tense.
Small groups were formed in the few available shady corners.
Most of the women had left their homes without being able to take anything with them.
Rosette Amisi, a mother, aged 30, lost her home, buried under three metres of lava.
"Muzungu, muzungu help us"
A throng of around twenty people formed around me, imploring. It took me a few seconds to understand what they wanted: to tell me about the pain of having lost everything. Rosette was holding her one-year-old baby in her arms and showing me what the Croix Rouge had just distributed: a bucket, soap, and a yellow container.
"This is what they give me; do you think my baby can eat soap?
It was 7 pm when my neighbour screamed… I left, her house was on fire! I had just enough time to take my four children who were bathing and we fled." Her eyes were filled with tears, her jaw tightened, she turned her head to hide her emotion. Fortunately there was a lot of support:
"Look at this dress, a stranger gave it to me, as well as my baby's nappy," Rosette told me, brandishing the child with outstretched arms".
"We need help. We must rebuild everything, a lifetime gone up in smoke."
© William Dupuy /AMADE
Close