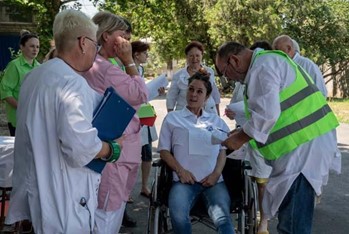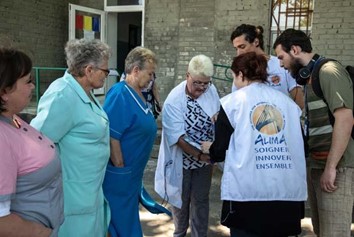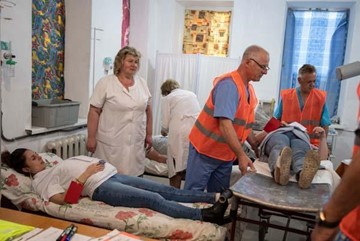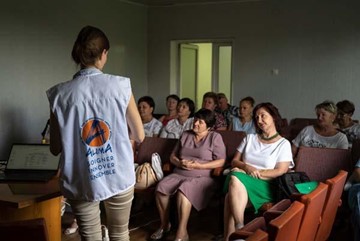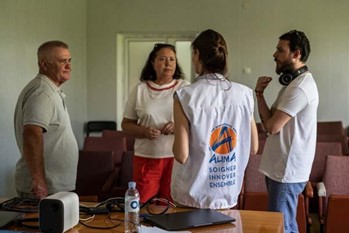 Context
As soon as the hostilities began, on the 24th of February 2022, AMADE launched an emergency appeal to its donors in favour of children and women affected by the conflict.
Due to the intensity of the conflict, the country counts nearly 7 million internally displaced people, more than 8 million Ukrainians have been forced to leave the country.
Women and children are the first collateral victims of the conflict. Schools have been shut down and children no longer have access to primary care. Women are faced with increased risks of abuse, including sexual violence.
AMADE wishes, in collaboration with its partner the NGO ALIMA, to be present on site as an operator specialised in access to health care in emergency and war conditions, to direct its aid to the Mykolaiv Oblast, a region located on the front line, in the south-eastern region of the country.
While the Mykolaiv hospital is experiencing a significant increase in consultations, its infrastructure, including the maternity ward, has been damaged by the bombings that have affected the area.
Since the beginning of the conflict, women from the region have been flooding into this maternity hospital in order to give birth in safety and receive medical care with dignity.
AMADE therefore wants to focus its support on this maternity hospital in order to ensure the continuity of care and to meet the primary needs identified by ALIMA in terms of infrastructure, training of health staff, psychosocial support, and care of women who have been victims of sexual violence.
Completed activities
- Renovation of the maternity ward of the Mykolaiv hospital.
- Provision of surgical and obstetric equipment, medication, and maternal health kits for crisis situations.
- Training of general surgeons in paediatric techniques to best meet the needs of children.
- Raising awareness of sexual violence and training in the care of victims.
Results
The maternity ward of the Mykolaivska hospital will be renovated and equipped.
The capacity of the maternity ward will be increased, allowing access to paediatric and maternal care for the population of the Mykolaiv Oblast.
Minimum reproductive health services will be strengthened and care for victims of gender-based and sexual violence will be improved in this war zone.
Emergency / Post-Emergency
Renovation of the Mykolaiv Maternity Hospital and Access to Pediatric and Maternal Healthcare
Make a donation
Ukraine

Mukolaïv

Project status

In progress

Duration

2022

Funding

50 000 €

Beneficiaries

Children and mothers receiving care at the Mykolaivska Maternity Hospital

Partners

ALIMA

Objectives

Improve the hospital's maternity ward capacity in Mykolaivska (infrastructure, training of healthcare staff) in order to provide specific care for children living in the Mykolaiv Oblast.

Sustain access to secondary maternal care.

Promote access to basic reproductive health services and care for victims of sexual violence.