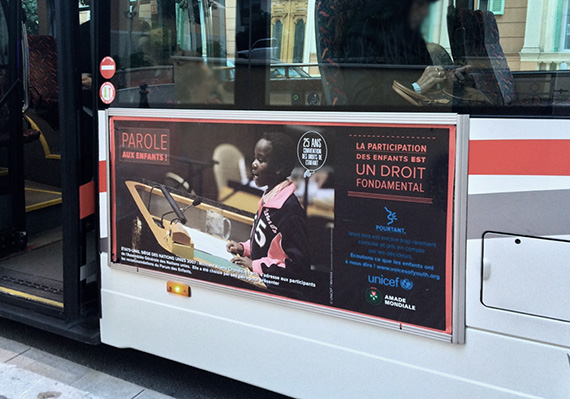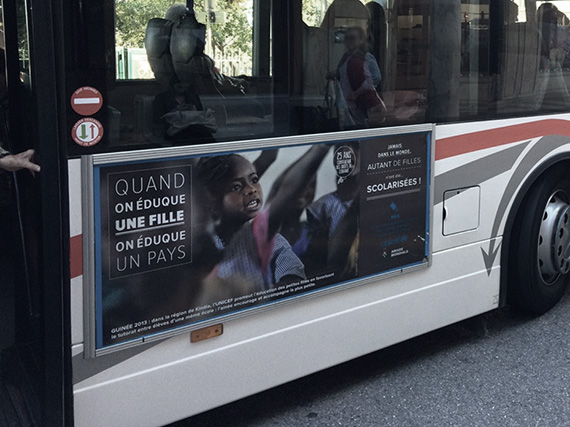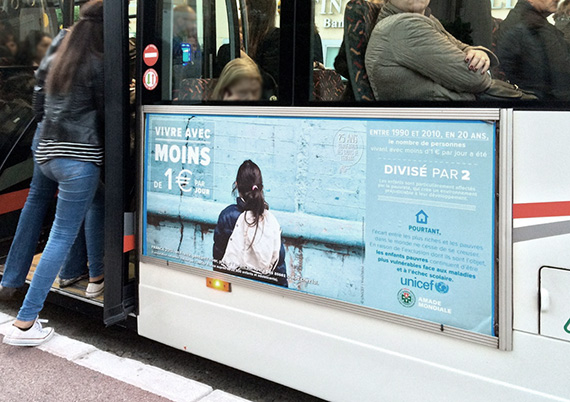 Context
Some 25 years ago, the international community made a promise to children: that we would do everything in our power to protect and promote their rights to survive and thrive, to learn and grow, to make their voices heard and to reach their full potential.
Exactly a quarter of a century later, AMADE decided to support the dissemination of UNICEF's awareness-raising campaign throughout the Principality. The campaign featured 25 separate images, each illustrating major progress in our efforts to protect children, yet also pointing to key challenges that lie ahead.
Since the UNCRC was adopted in 1990:
- Under-5 child mortality has fallen by around 50%, but there are still 3 million preventable newborn deaths each year (due to diarrhoea, pneumonia, malaria, etc.);
- The number of children enrolled in primary school has doubled, but 57 million children wolrdwide are still deprived of this fundamental right;
- The HIV infection rate among newborns has halved due to effective efforts to prevent mother-to-child transmission, but one-third of these babies will still die before their first birthdat because they have no access to treatment;
- The number of women dying during pregnancy and childbirth has fallen by 45%, but the number of morthers dying each year remains unacceptably high at 289,000;
- Child labour has been reduced by one-third, but 168 million children are still forced to work today.
In a world of ever-growing inequalities, children remain - more than ever before - the most vulnerable members of our societies. They suffer disproportionately from social exclusion, violence and exploitation. The orld is currently grappling with an unprecedented refugee crisis. More than half of these refugees (8 million in total) are children facing an uncertain future.
Birth registration is recognised as a fundamental right, affecting a child's legal status, his/her ability to access basic social services (education, social security and health care), gain qualifications and inherit his/her parents' estate. Yet more than 230 million children under 5 are not registered at birth. One in three children wolrdwide has no legal status. These "ghost" children will never appear in any statistics and many will face a future of sexual exploitation or enrolment in armed groups.
Completed activities
This campaign, with generous support from CFM Indosuez, was disseminated in the Principality between 19th October and 3rd November 2015 on the Monaco Town Hall's billboards (generously offered free of charge), on Compagnie Monégasque des Autobus buses, and in the Monegasque press.
Raising Awareness & Advocacy Work
Diffusion of the UNICEF campaign - 25 years of the International Convention on the Rights of the Child through 25 pictures
Monaco

Monaco

Project status

Completed

Duration

5 284 €

Funding

2015

Beneficiaries

-

Partners

UNICEF
CFM Indosuez
Monaco Town Hall

Objectives

To raise public awareness of children's issues on the occasion of the 25th anniversary of the Convention on the Rights of the Child.