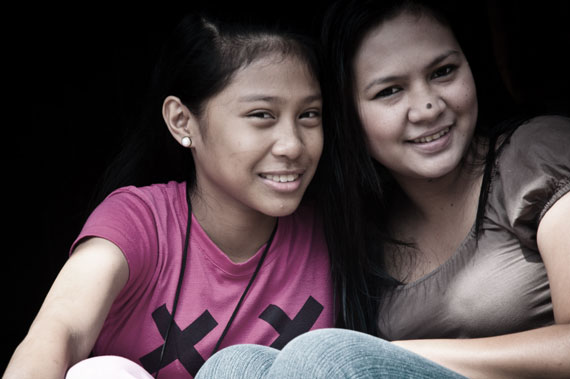 Context
The Philippines has an economic growth rate of 7%, yet one in three Filipinos still lives below the poverty line. The problem is most serious among young people. Indeed, they account for half of the unemployed, an estimated 1.4 million people. Despite the efforts made, the unemployment rate among young people went from 17.4% in 2008 to 16.1% in 2013.
The Open Day Center, set up in 2006 on the initiative of AMADE, is located in the neighborhood of Quiapo, where it was intended to offer families living in the streets a day shelter from which parents could find psychosocial support and access to education for their children.
Since 2015, the day care center has been rehabilitated into a training center offering access to training and work experience for young mothers and young adults living in the streets, thus enabling them to improve their living conditions and that of their children. The integration of women into the Philippine economy remains a challenge, as women continue to invest a large portion of their income in their family and their community. The increase in women's economic power goes hand in hand with higher expenditures for children in terms of education, health and nutrition. This pilot project is conducted in partnership with the NGO "Aide et Action", which has a recognized expertise in South-East Asia in the field of training/work experience of marginalized groups through its iLEAD program (Initiative for Livehood Education And Developement).
Completed activities
- Launching of an information and awareness campaign about the importance of education in terms of economic inclusion and about the services offered by the ODC in the fields of economic strengthening;
- Identification of young mothers and young adults who are beneficiaries from amongst the most vulnerable populations (single mothers, homeless people or people living in dangerous areas, young people from gangs, victims of abuse, etc.);
- Development of a personalized training program;
- Improving the literacy of mothers and young adults;
- Schooling the children of beneficiary mothers;
- Setting up professional training and/or work experience (sewing, cooking, bakery ...);
- Psychological support;
- Support in the search for a job after the training or in the creation of the beneficiary's own activity.
Results
177 young mothers enrolled into the training program
2 training sessions were set up
143 young mothers grauated from the trainings
73 % of the graduates found an employment
40 children were welcomed into the training center with their mothers. They benefitted from tutoring and extracurricular activities.
Protection
Open Day Center - Training and professional integration of vulnerable families
Philippines

Manille

Project status

Completed

Duration

2016 - 2018

Funding

83 000 €

Beneficiaries

35 young mothers living in the streets ages 18 to 35 years old
15 young adults living in the streets
50 children

Partners

Virlanie Foundation


Objectives

To contribute to the improvement of living conditions of mothers and children that have been marginalised through economic support and autonomy.