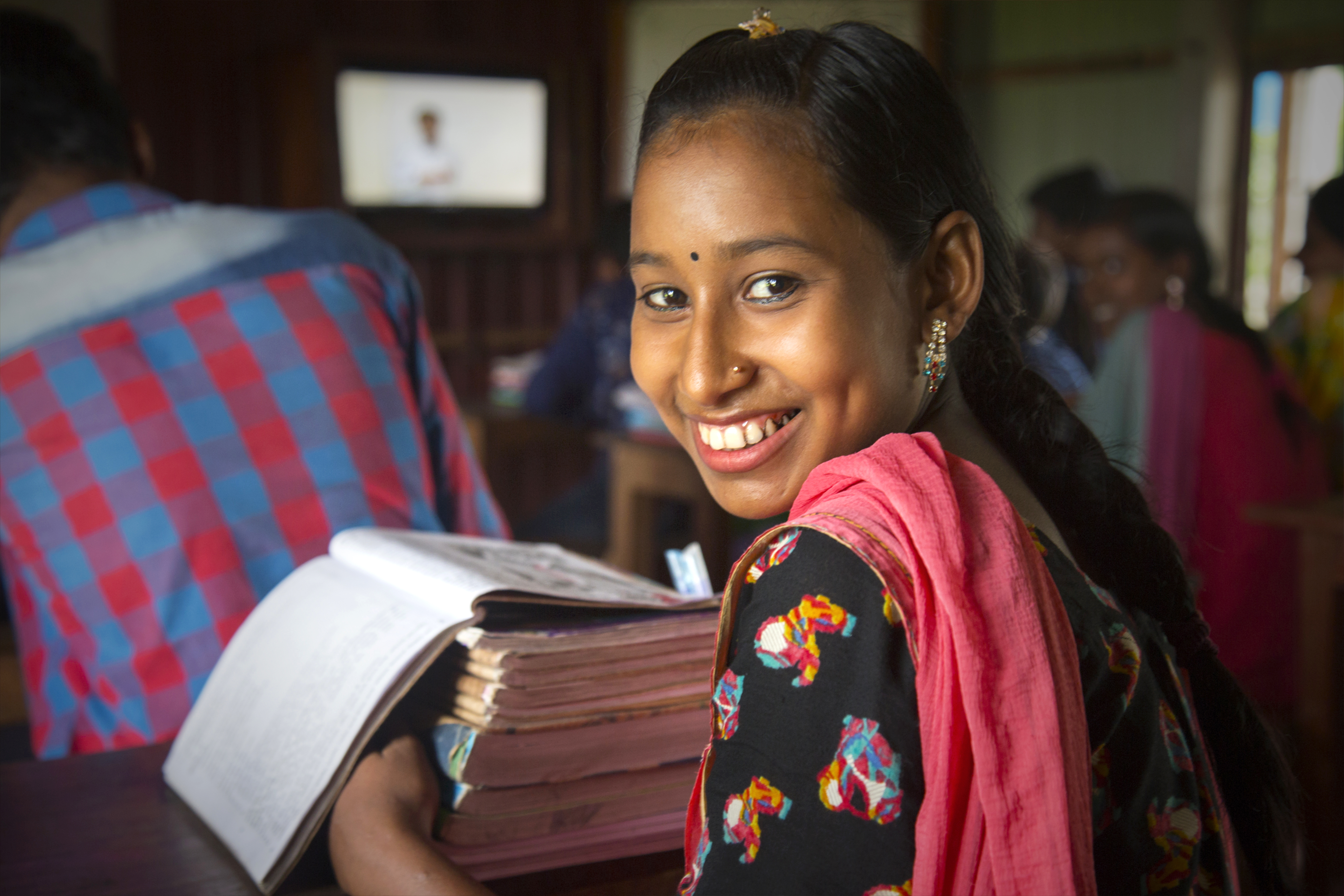 Context
On the chars, the river islands of Northern Bangladesh, the lack of roading infrastructure and electricity isolates the local populations, depriving them of access to most essential services, including education, in a country with 40 million children enrolled in schools. In addition, due to climate change, these islands have been particularly affected in recent years by natural disasters of unusual violence.
It is estimated that between now and 2050, Bangladesh will lose up to 20% of its surface to sea-level rise, leading to the displacement of nearly 165 million people.
To provide access to education for children living in these remote areas, the Friendship association, the leading stakeholder in Bangladesh, has recruited and trained teachers among the members of these communities. Since 2015, nearly 4 800 children have gained access to high-quality primary education and the results recorded attained a 100% success rate in the end-of-year exams of the primary cycle
In terms of secondary education and owing to the shortage of qualified teachers, Friendship relies on technology to enable nearly 700 intermediate students to study the educational programme with the help of videos recorded by teachers selected from among the best schools in Dhaka.
While these students have access to the fundamental lessons, they nevertheless remain deprived of knowledge pertaining to innovations, national and international news, science and literature, or climate change, and are also cut off from any connections with other students in Bangladesh or abroad.
With the aim of allowing these students to broaden their fundamental lessons, acquiring skills relative to computer technology and developing their knowledge and ambitions, this project aims to reinforce the educational supply with the aid of new educational content brought together within a digital platform and an exchange programme with French and Monegasque schools.
Completed activities
Electrification of 7 intermediate schools using solar energy and provision of computer equipment: Each school is given 2 solar panels, a computer room equipped with 5 computers and a high-speed internet connection.
Access and creation of educational digital content: In terms of educational resources and in association with the national programme, the students have access to the content developed by platforms such as the Khan Academy or Kishore Batayon. They also create content themselves.
Training of the pedagogical team and of students: 2 educators and 15 students from each of the schools are trained in the use of the computer tool and in turn become trainers for their peers. For many of them, this is their first experience with computers.
Partnership with French and Monegasque schools concerning climate change: Discussions via videos and pre-recorded then live testimonies concerning observations of climate changes, sharing solutions to combat these, and allowing students to position themselves as actors of change, to become major advocates and raise awareness within civil society.
Results
7 intermediate schools electrified and provided with computer equipment and an internet connection.
105 students develop their knowledge via a diverse range of educational content.
100% of the intermediate student obtain their end-of-cycle diploma versus 83% at the national level.
100% of the students have a better understanding of today's issues that they must confront, in terms of the rights of children, ethics, and climate change.
Reduction of the use of forced labour.
Reduction of school drop-outs among young women and girls and the practice of early marriages.
Education
Access to digital services and reinforcement of the quality of secondary education for students in Northern Bangladesh.
Bangladesh

Gaibandha - Kurigam

Project status

Completed

Duration

2021

Funding

48026 €

Beneficiaries

105 intermediate students,
14 members of the pedagogical teams within the secondary establishments of Friendship

Partners

Friendship Association
Division of the Secondary and Higher Education of the Ministry of Education in Bangladesh
French Ministry for National Education, Youth, and Sports
Head of National Education, Youth and Sports in Monaco

Objectives

To improve access to knowledge through the electrification of schools, access to internet, and the creation of a digital platform.

To provide training for pedagogical teams and students in the use of developed digital tools.

To give students the means of becoming active participants, through better understanding of the issues related to climate change, and through discussions with international educational institutions